My husband truly loves me. Last week when I was up at the PX playground with my friend M I got a phone call from R telling me that he booked us a weekend trip at Turtle Bay Resort and that I had four hours slotted at the spa for some me time. Let's just say it took all of two minutes being on the property and none of us ever wanted to leave. He booked us the
cottage style room
, which by the way gets a great military discount. Those that are still here and want a little mini trip or would like to stay somewhere special before you leave the island, this place was it for us. I'd like to take another mini trip backt there before we leave for good this summer. Back to the trip. As soon as we walked into the room and set our bags down we had a phone call. Complimentary water, t-shirts, fruit, and POG was on it's way. Free stuff ha ha! Okay, so it wasn't much but anything free is awesome for us. Our room had an all glass sliding door wall that opened up straight to the ocean, equipped with a hammock right on the beach edge. But of course we have two little girls with us, screw relaxing! We spent the rest of the afternoon at the pool with the kids and then off to dinner after we got cleaned up. They have an excellent seafood buffet on Saturday nights. All you can eat everything, but of course I was happy with the crab legs.
The next morning was my actual birthday. I woke up and headed straight to the spa for an hour long massage, facial, pedicure, and manicure. Believe it or not although it was very relaxing, I have a hard time being away from my kids. Must be ingrained with the lack of babysitting we have around here. I was ready to see them by the time I was done. Back to the pool we go since the horseback riding was completely booked by the time we checked in. Another long afternoon at the pool, kids swimming, parents drinking lol. They have a really good blended drink there called Monkey's Lunch. I don't know all what was in it, but it definitely had bananas and Bailey's in it. Yummo.
We ended up having a very low key dinner of pasta and wine. I was wiped from all the massages and oils and creams and lotions I'd endured all morning. I think we were all in bed by 9:30. It didn't take me long to fall asleep. And of course all good things have to come to and end and usually end too quickly. We basically got up out of bed, packed our clothes and headed home. We had a very sad puppy here at the house waiting on us.
All I can say now is that poor Richard has a lot to live up to after what he did for me this year. I'm thinking The Elms in Kansas City next year. They have a spa ha ha. Just no beach, warm weather or pool. So, if anyone wants to go spend the day up at Turtle Bay...just the beach and lunch (well and maybe a drink!) I'm sooooo down it's not even funny.
Oh and did I mention that my camera battery died the first night we were there? A lot of my pictures had to be taken with my phone. I have to figure out how to upload them to my computer and not just facebook.
The living area of the room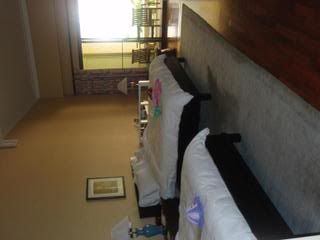 The giant soaker tub the girls used as a swimming pool after they got out of the actual swimming pool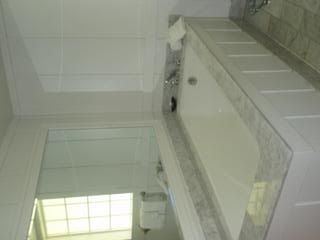 The double sinks and shower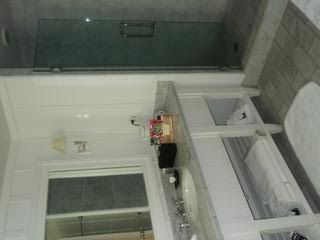 The view from our room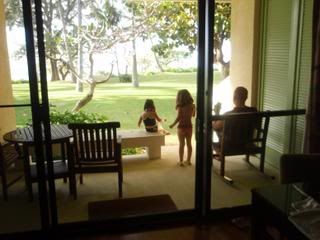 And just a few of my favs (Brenna spent the weekend hiding from me)